Online Personal Training
Diets Dont Work
Virtual Online Personal Training
Since the start of the Covid-19 outbreak, we expanded our online personal training. For over 15 years we have been providing home-based training with minimal or no equipment. So we are perfectly placed to adapt to full virtual online personal training. Ideal for those with limited time or the vulnerable. 
Private sessions are one to one with your own personal fitness and nutritional coach. They are also specifically tailored to your own goals. We look at your available space, equipment and fitness levels to design your complete plan. Sessions are live and in person. We use a number of platforms – FaceTime, Zoom, Skype, Messenger or WhatsApp. We can even help you get your equipment working.
Exercise and healthy nutrition are the frontline of a good immune system and nutritional help is included in all block bookings. We also have a reputation for 50+ fitness. Instead of generic youtube videos aimed at the young, we provide specific targeted exercise. Get started on a strength and fitness program designed solely for you. To find out more information book a free online consultation.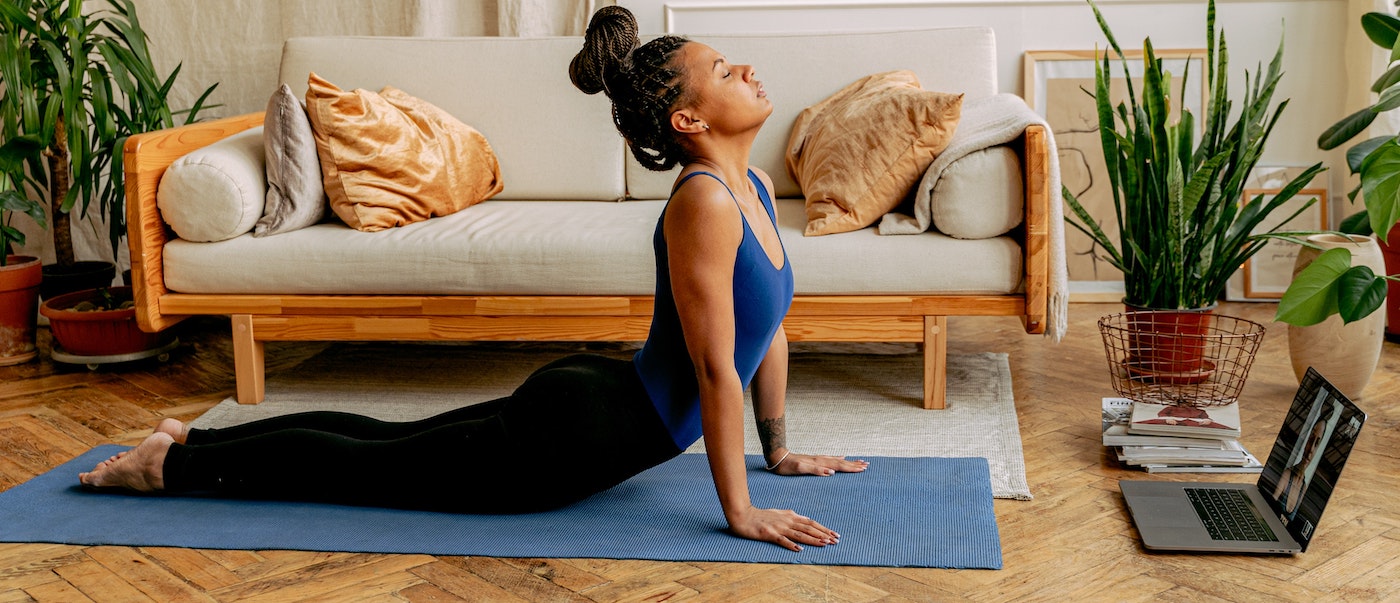 Online personal training in your home
Our small team of online personal trainers are highly qualified predominantly Premier NASM; they also come equipped with a sense of humour. We have years of experience making clients strong, fit, and healthy in the home environment. We are used to providing a service with little or no equipment and can deliver effective sessions anywhere. Experts in adapting everyday objects to exercise, we use stairs, chairs, and even full water bottles to create innovative and effective workouts.

Tailored to you
In your free online consultation, we look at your goals, current fitness levels, time available, past successes, and mistakes. Using this we can make sure that your programme adheres to the 3 golden rules for success – achievability, sustainability, and effectiveness. Any injuries or limitations are factored in while routines include a proper warm-up, cool down, and flexibility. Expert help to get you the body you always wanted.

Nutritional help included
Strength, fitness, and nutrition are the three pillars of your immune system. All block bookings of 6 or more sessions include nutritional tracking. We then implement clever, real-world strategies to improve your eating and help you lose weight. Treats and alcohol are totally allowed and part of the plan. Eat normally while losing fat and being healthy.

Support outside of the sessions
All block bookings include out-of-hours support via email and text. Ask us anything, anytime."Is this ok to have for dinner?" We're on it. "Which is better, beer or wine?" Experience has taught us many great tips to finally complete your fitness mission. Training with us gets you access to eye-opening articles to read from a database of hundreds. Great advice from the lowest calorie chocolates or which ready meal to buy to the best booze to choose.

Specialists in training for the over 50s.
Our client base ranges from men and women in their 20s to those in their 70s and 80s. The greater the age the greater the benefits of strength and fitness are. A major issue of aging is loss of muscle mass, strength and balance. Gentle, safe but challenging coaching will make you stronger, more flexible, and fitter. Have a look at our success stories website page to see the great results we've had with our high flying over the 50s, including a world record holder!

Big Picture Thinking
The main goal at DDW is long-term health. Aspects like lack of sleep, high stress levels, family and business pressure are all damaging to health. Easy gradual change will help achieve a better balance; not just for now but for life. We also like coaching for the mind – often the barrier to success. If there's a mental problem we can't fix we refer clients on to a network of counselors, hypnotherapists or recommend apps and books that will help.

Fitness routine programme writing and set up
If you are confident in your own motivation and knowledge, we can set you up with gym-free workouts that you can do at home or outdoors. Short, timed workouts for instant results or a daily split muscle building program – the content of your plan is designed around you. Keep improving with monthly updates to the routine and online progress tracking  A consultation, programme, and single session a week or even month can provide the benefits of PT at a lower cost. Contact us to see what combination of programme writing and sessions will best help you get amazing.

Private group and small class training
Sessions can include your partner, wife, and children at a small extra cost. This actually makes the sessions more affordable per individual. We can train people at different fitness levels in a single session.
Get your free consultation
We're ready to help you begin your journey to a healthier, more fit body with a free consultation today. This is your opportunity to become acquainted with your trainer. During the first consultation, you will receive a health screening, lifestyle assessment, and goal setting, as well as an evaluation of your progress. Once we have determined where you want to go, we'll make a plan and answer any questions you have.
For more information, call 07830 148300 or fill out our contact form.
Diets Don't Work Personal Training and Nutrition