Personal Trainer Maidenhead Berkshire
Diets Dont Work
Personal Trainer Maidenhead
Get fit and lose weight with a Personal Trainer Maidenhead from Diets Don't Work. Our experienced online team provides private bespoke personal training at home and outdoors. In your garden or one of Maidenhead's great open spaces; such as Braywick Park, Grenfell Park, and Ray Mill Island. We also cover the surrounding Berkshire villages of Bray, Holyport, and Cookham.
Our health and fitness packages include proven strategies to sort out your eating. Plus a realistic training approach that offers short but effective exercise routines. Ideal for you to do as part of our personal training sessions or on your own. Extra support comes outside the sessions via text or Whatsapp. Everything you need to succeed.
Our personal trainers make health, fitness, and weight loss fun, rewarding and motivational.
Personal Training & Nutrition Coach
One on One personal training, with a partner, or in a small group
Train at home, in your garden, or at a local park.
Health & Fitness package for weight loss and nutrition
No Fad or Crash Diets, Just clever eating strategies.
Specialist training for the over 50s
Realistic, but effective, training routines
Homework and online support for outside the sessions
All training equipment provided
It's good, clever, simple and it helps you achieve great results!

Private Personal Trainer at Home
We can work out with you in almost any space in your home no matter how small. Even a few stairs can be a challenge if approached in the right way. A kitchen, office, deck, or paving area will give enough space for an inventive trainer. No gym membership needed – you only pay for time with your mobile trainer.

Online Training
Although we are based in Berkshire we now provide online training nationally, one on one, partner, or private group personal training.  Read more about online training here.

Clever Nutrition & Eating Strategies
Some of the techniques and nutrition advice we use:
– planning meals out; including regular but smart indulgence;
– using smart technology to track calories; help with food cravings
– teaching why some foods make us hungrier or more likely to gain fat;
– understanding human energy systems and the role of insulin.
Together we figure out which combination works for you to reach your goals. An all-round realistic training approach
We make step-by-step tweaks to your eating, life balance, sleep patterns, and levels of activity. Small changes in different connected areas lead to lasting fitness and weight loss. We understand there are some things you can't change. You might have to work late, be busy with family, or in situations where wise eating choices are difficult. We work around these challenges to change what you can alter, so you succeed regardless.

Tailored Programmes
The sessions and nutritional coaching are tailored to meet your individual needs. If you are new to exercise, we start you at a challenging but appropriate level. If your goal is sports-related, we will train you with the latest techniques to achieve your personal best. Improvement in eating takes place at your pace, step by step. Past eating issues are kept in mind as well.

50 Plus Fitness
Specialist training programmes for those over 50 plus. Strength training for coordination, flexibility and bone density. Cardio-vascular exercise, core stability and advanced stretching.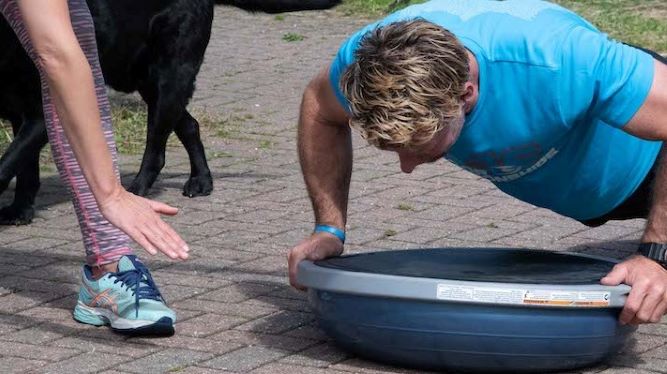 Homework and online support
Unlike some gym-based training where you turn up, train, and then leave, exercise outside of your sessions is made achievable. Time-efficient homework routines that fit into your schedule are included in all block bookings of 6 or more sessions. A solo routine can be as short as 15 minutes! We also provide out-of-hours support via text and email plus homework articles for you to study. Home training also gives us a unique insight into your lifestyle. Helping to identify any changes needed to create a better balance.

All Equipment provided
We bring a portable, versatile and modern kit for our training sessions.. Everything you need to gain strength, get fitter and gain a leaner body.
We use:
Free Weights, Barbells, Bosu Balls, Battle Ropes, TRX training, Swiss Balls, Boxing gloves, and more in the sessions – everything that you would find in a modern gym.
Get your free consultation
Take the first step to a fitter, healthier you and contact us to book a free consultation. It's an opportunity to meet your prospective trainer.
The consultation includes a health screening, lifestyle assessment, goal setting, and a look at where you are now and how you got there. Together we can then make a plan of action to get you where you would like to be and answer any questions you might have.
Call us on : 07830 148300 or complete our contact form.