Personal Trainer Windsor Berkshire
Diets Dont Work
Personal Trainer in Windsor
Get fit with a highly qualified Personal Trainer in Windsor. We are Windsor's longest established provider of mobile and online private Personal Training services. We have been improving lives with fitness and nutrition training throughout Berkshire since 2004 – over 18 years of happy weight loss and fitness!
Diets Don't Work provides our advanced training services to you at your home, or in the beautiful parks and green spaces of Windsor. We bring with us innovative, portable exercise equipment for a fun effective workout.
Our unique training method provides you with a complete tailored programme from your own personal exercise and nutritional coach.
Individual, Couple, or Small Group Personal Training
Health & Fitness package for weight loss and nutrition
Proven nutritional methods without fad or crash diets.
Age 50+ specialist training
Train in the comfort of your home, your garden, or local park.
Training routines that are realistic yet effective
Online support and homework outside of class
Training equipment provided
Thanks to my trainer at DDW I am 3 stone lighter; fitter than I have ever been and very motivated to be fitter and maintain my healthier lifestyle. I also have a new passion for indoor rowing and developed a competitive streak – love it – thanks!!

Personal Training delivered to your home
Our one-on-one personal training sessions take place in the privacy of your own home. Also, the garden if you have one. Almost any space can work for the sessions with our innovative training method.  In normal times we also train outdoors in many of Windsor's great parks and public green spaces. No gym required.

Tailored to you
We develop Personal Training and Nutritional programs that fit in and around your goals. For those new to exercise we start at a level that is challenging but appropriate. For sports-specific training, we are up to date on the latest training techniques to get you that Personal Best. We implement change at a pace you can handle and address any specific issues you may have.

Unique training method
We have developed a range of training routines over our years of personal training. Routines that are time-efficient and balanced. We focus is on resistance training, short effective cardio and flexibility for great fitness and weight loss results. Sessions are adaptable for anyone. whether you are an advanced exerciser or new to fitness. Our trainers make fitness and weight loss possible, rewarding and motivational. It's that simple and it does work.

Fitness and Nutrition
The Diets Don't Work Method combines fitness training with nutritional assessment. We create real-world eating strategies enabling Clients to make better eating choices – even when under social pressure. We also have years of experience with emotional eating issues and managing cravings. If you don't love or have time for exercise, we will help you manage that. We encourage activities outside of the sessions doing things you like and enjoy. Combining improvements in eating, increased activity, one-to-one personal training, and improved lifestyle will keep you fit and healthy. Lasting success to outlive a thousand fads.

Working together 24/7 Support
We get you moving outside of your sessions. Block bookings include homework routines that fit into your schedule and are time-efficient. It is possible to design a homework routine that takes as little as 15 minutes. Additionally, we teach clients how to use smart apps to make every session more effective. Moreover, you can get out-of-hours support via text and email, as well as easy homework articles.

50Plus Fitness
Our clients range in age from those in their 20s to those in their 50s, 60s, 70s and 80s. The benefits of strength, health and fitness increase as one ages. Strength, muscle mass, and balance are all issues that arise with aging. You will become stronger, more fit, and more flexible through safe yet challenging coaching. You can see the great results we have had with our high flying over 50s on our success stories page, including a world champion holder! More details on our over 50s fitness.

All training equipment provided
Our trainers bring with them everything you need, to your location, for a full workout.  Free weights, Bosu balls, Battle Ropes, TRX training, Barbells, Swiss balls, Boxing Gloves and more.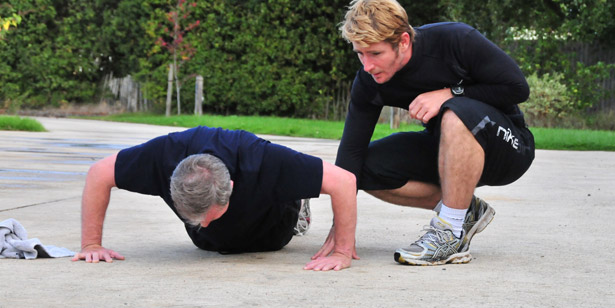 Personal Trainer Windsor - Free consultation
Contact us today to schedule a free consultation to get started on the path to a healthier, fitter you. This is your chance to get to know your trainer. Health screenings, lifestyle assessments, goal-setting, and progress evaluation are all part of the consultation. We will then make a plan of action to get you where you want to be and answer any questions you may have.
Contact us at 07830 148300 or fill out our contact form if you require more information.
Diets Don't Work Personal Training and Nutrition