Personal Trainer Bracknell Berkshire
Diets Dont Work
Personal Trainer in Bracknell, Berksire
Get fit and lose weight with a DDW Personal Trainer in Bracknell, Berkshire. Our team of mobile personal trainers are all properly qualified advanced trainers (NASM/Premier Global or equivalent) and experts in both fitness and nutrition.  We've been helping people from all walks of life lose weight, get fit and feel confident for nearly 20 years. 
Our private personal trainers in Bracknell are highly qualified, well-rounded and experienced. We are also easy to get on with, approaching fitness and nutrition with realism and a sense of humour. With us, body fitness and weight loss are not only within reach – it's also rewarding, motivational and gets great results. We also coach fitness and health as a long term project that you can stick with even beyond your sessions. 
With professional help it's simple and it works – see our success stories
One on One, with a partner, or small private group
Health & Fitness package for Nutrition and Weight Loss
No Crash or Fad Diets, Proven nutritional techniques.
Specialist training for over 50s fitness
Train at home, garden, or at a local park.
Realistic, effective, routines
Homework and online support
All exercise equipment provided
Training with Adam has been really fun and I'm well on my way to achieving my goal, I can already see a difference to my body's shape and I'm really pleased with the results. I find Adam motivating and a joy to train with, he really knows his stuff and helps with eating plans setting realistic and achievable targets. I used to view exercise as a chore but now it's no longer foreboding and I leave every session feeling great!

Private Training delivered at home
Our one-on-one sessions take place in the privacy of your own home or garden. There are no gym membership fees – you only pay for the time with your trainer. We can make almost any space in your home or garden work with clever and innovative methods. As well as home visits, we encourage clients to train outdoors. Sessions can be in one of Bracknell's many parks, gardens, and green spaces. This gives the opportunity to use natural and man-made structures as exercise equipment. This can be even more beneficial than traditional gym-based exercise. More details about our Personal Training.

Proven nutrition techniques to sort out your eating
Block bookings of 6 or more personal training sessions include ongoing nutritional analysis. We put in place real-world strategies that work for you to help sort out your eating. We also look at ways of coping with work, family and other stress. Whether under pressure or on special occasions we help clients make better eating choices. Years of experience have taught us how to help with emotional eating issues and cravings. We also encourage clients to increase activity by doing things they like and enjoy.  Together this helps tip the scales in your favour – we call this the DDW method

Homework and Online Support
We get you working out outside of your sessions. Block bookings include time-efficient homework routines that fit into your schedule. A homework routine can be as short as 15 minutes with the correct design. We also teach clients to use smart apps to make every session effective. There is also out-of-hours support via text and email, plus easy homework articles for you to study. Home training also gives us a unique insight into your lifestyle. This makes it easier to address the root causes of weight gain.

50 Plus Fitness
Our clients range in age from 20-year-olds to the over 50s plus and to seniors in their 70s and 80s. With age, one gains more benefit from strength and fitness. A person's muscular mass, strength, and balance decline as they age. Your strength, flexibility, and fitness will improve with safe and challenging coaching. 50 Plus Fitness details.

Child and Pet-friendly trainers
In most situations, home training with us means no need for childminding or pet sitting. We've done workouts with babies in prams, dogs chewing balls, and cats on sofas. Having your little ones with you in the sessions makes them more fun and usually also tires them out too!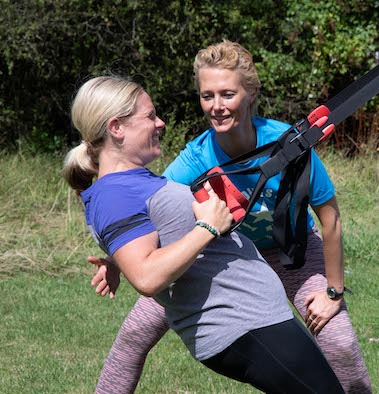 Bespoke Personal Service
Your DDW personal trainer in Bracknell will design the sessions and nutritional coaching around you and your individual goals. If you are new to exercise we start you at a level that is challenging but appropriate. If your goal is sports-specific we are up to date in the latest techniques to get you that personal best. Eating improvement happens in a step by step way, at a pace you can handle. We also keep in mind Any eating issues you may have in the past.

All training equipment provided
Our trainers bring a portable, versatile and functional kit with them. Everything you need for a full workout. We use free weights, barbells, Bosu balls, TRX, Swiss balls, boxing gloves, and more in the sessions. Everything that you would find in a modern gym.
Book a free consultation with a Personal Trainer Bracknell
Get started on the path to a fitter, healthier you by contacting us to schedule a free consultation. It is an opportunity for you to meet your future trainer. Health screenings, lifestyle assessments, goal-setting, and an evaluation of your progress are all part of the consultation. We will then make a plan of action to get you where you want to be and answer any questions you have.
For more information, please call 07830 148300 or fill out our contact form.
2 Hoffman Close, Bracknell, RG42 2JS
Diets Don't Work Personal Training and Nutrition