Personal Trainer Ascot Berkshire
Diets Dont Work
Get fit with a Personal Trainer in Ascot from Diets Dont Work. Expert, qualified trainers who will identify your individual training needs and nutritional requirements. Our private one-on-one personal training happens in the privacy of your own home or garden. So there's no commute, no gym pressure, and no membership fees to pay.
Our trainers arrive with an innovative kit for a fun, effective, and physical workout. As Berkshire's most experienced fitness trainers; we have helped hundreds of people reach their health and fitness goals. We also encourage clients to train outdoors in parks, gardens, and green spaces.
Our personal trainers in Ascot make fitness and weight loss achievable and rewarding.
One on One training, with a partner, or small group
Health & Fitness package for Nutrition and Weight Loss
No Crash or Fad Diets, Proven nutritional techniques.
Specialist training for over 50s
Train at home, garden, or at a local park.
Realistic, effective, training routines
Homework and online support
All excercise equipment provided

Online Virtual Training
Since the start of the Covid-19 outbreak, we have been providing online virtual personal training. We have managed to make this is very close to one-to-one and it remains safe and effective for those that may be vulnerable or still shielding. Because of the constantly evolving situation, we can move from in-person to online seamlessly should a client need to.

The Diets Don't Work Method - Improving all aspects of health and fitness
Our personal trainers in Ascot use the Diets Don't Work Method. This is an all-around approach that looks at eating well for health and vitality, structured, tailored exercise, and lifestyle change.
We include all the support, motivation, and expertise that you need to get really fit and toned. We analyse your eating habits to make step-by-step changes that you can adopt and stick with. There is also support and encouragement via text and email beyond actual sessions. We look at your whole situation and enable change where needed.

Nutrition and healthy eating choices
The key to weight loss is your diet. Exercise will help, especially long term, but nutrition is the main driver.  We guide clients through the pitfalls and contradictions of nutrition, working with them to find a realistic balance of healthy, sustainable eating with treats and indulgence. For chocaholics we'll teach you the smart choices; for those that like a tipple just a few adjustments and adaptations should be enough to get the scales heading down. Regular reviews help to keep you on track, with a long-term approach to food to outlast a thousand fad diets.

24/7 Support and Guidance
More than typical turn-up and leave gym-style personal training, we're always on hand to encourage and support you or to answer any questions you might have. Bagel or bread? Text us! We'll also look at your overall week and gradually introduce exercise you can do on your own, tailored to both your attention span and time constraints.

Over 50 Health and Fitness
The ages of our clients range from those in their 20s to those in their 70s and 80s. As one ages, strength and fitness become more beneficial. Aging results in issues with strength, muscle mass, and balance. Safe yet challenging coaching will help you become stronger, fitter, and more flexible. View our success stories page to see what we have accomplished with our high flying over 50s, including a world championship holder!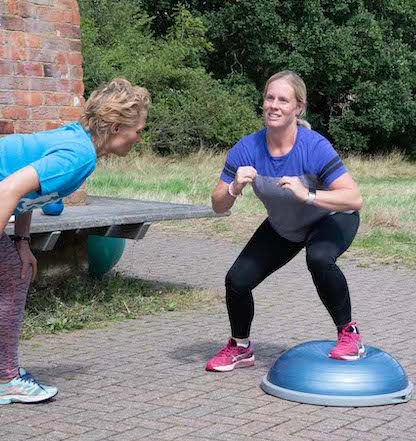 More weight loss and functional fitness with outdoors training
Major studies have shown that training outdoors has greater benefits than traditional gym-based exercise. Both in terms of fitness, mental well-being, and resilience. In the Ascot area, we are blessed with a wealth of unique beauty spots and parks, from the Great Park, to Ascot Heath.

Pet & Child Friendly Sessions
Home training means no need for childminding or pet sitting. Many clients bring their dogs to the sessions or have them keeping an eye on proceedings at home. We've done workouts with babies in prams, dogs chewing balls, cats on sofas, and workouts including bored teenagers on school holidays.
Get your free consultation
What Now?  Take the first step and contact us to book a free consultation.  It's an opportunity to meet your prospective trainer. During the consultation, we go through a health screening, lifestyle assessment and goal setting. You will get detailed information and advice on the benefits our services will offer you. We look at where you are now, how you got there and where you want to get to.  Jointly we then make a plan of action to get you where you would like to be. As well as answer any questions you might have.ve.
Call us on 07830 148300 or complete our contact form.
Diets Don't Work Personal Training and Nutrition