October 16th, 2015
Low calorie Cocktails
Most of you should know by now that drinking is the secret fattener. It's hard enough being careful with your eating, exercising and getting enough sleep (all essential for healthy weight loss), but if you drink then it gets much, much harder.
You could have been looking good after a day of careful eating, but three large glasses of wine later and whoops you've just had an extra 350 calories. Or the same as a small meal. Or 1.5 lbs of fat over week. Or 3 stones over a year. You get the idea.
But don't fret, all is not lost. As per our article on the lowest calorie drinks (anything slimline with a spirit is best) you can still have some fun while staying slim. Here are our6 best low calorie cocktails.
The first step when on a cocktail night out is to ask the bartender to make any cocktails from scratch. Many bars use sugary mixes that have been pre-made but you don't want these. Instead get your man (or lady) to do it old school. This their actual job, by the way.
1 – Old fashioned
Long before cosmos and mojitos this, the first cocktail to be invented, was being enjoyed. They are clasically simple with few ingredients to mount up the calories or confuse the taste buds.
Recipe:
Granulated sugar, sugar in the raw, or simple syrup can be used to sweeten the cocktail. Use whatever you have on hand. But be sparing.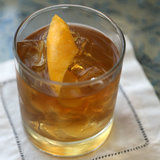 Ingredients
1/2 teaspoon granulated sugar
2 dashes Angostura bitters
2 ounces bourbon
Ice
1/2 teaspoon water
1 twist of lemon peel
Directions
In a whiskey glass, add (a small amount, teaspoon) of sugar and bitters. Add bourbon and stir with a small barspoon until sugar dissolves. Fill glass with ice and a splash of water. Stir once more and garnish with a lemon peel twist.
2 – Margarita – Without any pre-made sugary stuff, the margarita should be clean and simple. Mix in tequila, lime juice, and a tiny bit of agave syrup or Cointreau. Fresh lime juice and a dash of simple syrup is a-ok too.
3 – Bellini. These can be made with various fruits, but the usual version would be with peach puree. So you'll be getting some vitamin C. And it comes in a champagne flute. Posh. Pour peach puree into chilled flute, add Prosecco. Stir gently.
4 – Cosmopolitan. Carrie and the girls in SATC didn't look great by accident. They probably ate well but also knew what cocktails to order. Made of vodka, lime juice, and a splash of cranberry juice, a cosmopolitan barely goes over 150 calories.
5 – Mojitos. The modern mojito has been brought down by a reliance on too-sweet mixers. Always get them made fresh. It should just be white rum, fresh mint, soda water, lime, and just a touch of sugar. Be sure to ask your bartender to comply on the "touch of sugar" and you will be coming in around 150 calories. One of our favourite low calorie cocktails.
6 – Gimlet. These come in a variety of guises and can be made with gin, vodka or tequila. They are both simple and tasty. Gin is the more usual choice; mix with lime juice and a dash of sugar. You can also add cucumber or mint for added zing.